Protect, Preserve & Present
We simply use the best materials and practices when framing your artwork. Conservation framing is what we specialize in to protect and preserve your work no matter the value. Rest assured your art is being handled and framed to exacting standards.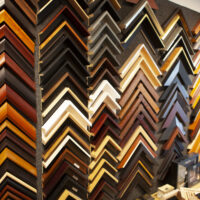 Picture Frame Styles For Every Budget
We cater to every level of custom picture framing need. Our collection of standard profiles are carefully curated to offer only the best profiles while ensuring a style for every budget.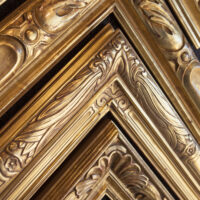 Closed Corner Custom Picture Frames
For the discerning client, we offer our extensive collection of hand-made, closed corner custom picture frames from premiere gilding houses around the country.
Picture Frame Design
All great framing starts at the design table. It is where you and your frame consultant discuss your goals for your artwork and explore the remarkable possibilities in framing – all leading you to a collaboration in which you get the best frame design possible, made as well as it possibly can be made.
Archival Picture Framing
Archival framing uses only materials and techniques that will not cause damage to your art. This means using only acid free paper, mat, and backing products, using only UV filtering glazing, and non-invasively attaching your art.
Custom Mirror Experts
Image & Frame can build you a frame that will safely support your mirror with any of our thousands of frames in any size you desire.
Picture Frame Repair & Restoration
A major function of a frame is to protect your artwork. When bad things happen, frames can get damaged. Fortunately, you don't have to replace the frame every time it gets scratched or bumped. We do frame restoration in order to get your art back on your walls in the most cost effective way possible.
Artwork Restoration
We are fortunate to work with top notch painting and paper conservators, both local and national. When you bring your damaged artwork in, we will connect you with the conservator who is best for the job.
Art Delivery & Installation
We work with the best companies to have your framed art delivered and installed. We can recommend top of the line installation services who are capable of handling jobs of any size and complexity. We also have services that will crate and ship artwork nationwide.
Artwork Mounting and Canvas Stretching
Every piece of art needs to be supported. Canvases need to be stretched on expandable stretcher bars. Paper art gets hinged or dry mounted to an appropriate backing board. We use the proper methods to ensure the longevity of your art.
Our Custom Framing Services
All Conservation Based Techniques & Materials
We want to ensure your art is protected. We only use the highest quality materials and techniques to frame, and preserve your art.
Conservation Picture Framing

Closed Corner Frames

Period Picture Frames

Steel & Aluminum Picture Frames

Installation & Delivery

Canvas Float Frames

Delicate Fabrics, Silks and Embroidery
Extensive Hardwood Selection

Veneers & Specialty finishes

Custom Color Lacquers

Frame Restoration

Crating & Shipping

Shadow Box Frames

Canvas Stretching & Mounting